About the Layout
The Barre Branch is based (loosely) on the Barre, VT branch line that ran from Montpelier Jct, VT, to Barre. The Central Vermont Railway ran this branch up until 1958, when it was sold to Samuel Pinsely of Boston and operated under the Montpelier & Barre Railroad.
During the early 1950's (the approximate time of the layout), there were two daily way freights from Montpelier Jct to Barre (excepting Sundays). Typical power on the branch were the 2-8-0s and 0-8-0s, with Alco diesel switchers being used in later years. Helper engines for the steep climb to Roxbury were located at the Montpelier Jct. engine house as well.
Not surprisingly, granite blocks and their associated products represented the bulk of the traffic on the branch.
The decision to loosely model the Barre Branch evolved, due in part to the small physical space that we had to work with. From an operations standpoint, the layout is designed to provide some switching interest in Montpelier Jct, and with a short branch line run, some additional car sorting challenges in Barre. It is not meant to be fully prototypical.
Layout Details
Fitting in a 10x10.5 foot spare room, this HO layout features hand laid track, and Fast Track turnouts using code 83, 70, and 55 rail. With a minimum radius of 18" (on a couple of siding), most curves are 20 or 24". There is a 2% ruling grade up to Barre, and a similar grade down to "hidden" staging. Control is handled through a NCE PowerCab, turnout controls are a mix of Fast Tracks Bullfrogs, and Caboose sprung (N scale) throws.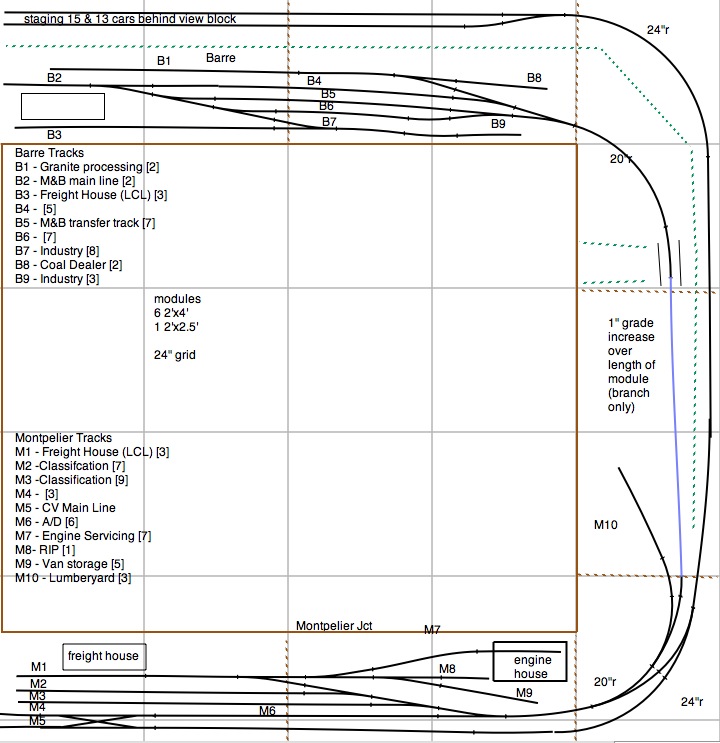 Construction Method
Construction of the Barre Branch is sectional in nature. The series has become known as "22 Stories Up" thanks to our current living situation in a high rise apartment on the 22nd story. Located in the Middle East (UAE), it's apartment railroading at it's finest, with no hobby shop within 8,000 miles! These circumstances have lead to less traditional approach to construction, using sectional "modules" set atop readily available consumer storage shelving.
Currently (Winter 2012) the first four sections (moving counter-clockwise from the lower left corner) have fully completed track work and are operational. Scenery is complete on the first, and about 50% on the remaining operational sections.
Build Status
Physical construction began in Sept 2010 (not counting pre-move module base construction in March/April of 2010), and as of July 2012, the layout is 98% complete from an operational standpoint; the remaining 2% is the addition of one more turnout throw, and a permenant connection between the Barre modules and the remainder of the layout.
Thoughts on expanding the layout (perhaps around the room) are being considered, after the majority of the scenery is completed.
Tear Down
Due to a move, the layout has been broken up, and set to transport. Time will tell if this plan was a good one!