Axian, the company
I placed the order via the web, and the boxes shipped the next day with UPS tracking. They were delivered yesterday as scheduled. I had lots of ideas how they might be packaged for shipping - being boxes themselves. Shrink wrapped, paper wrapped, whatever. I was very surprised to see how they were very carefully packed (in bubble wrap!) inside of another box. There was no damage on the items. Maybe I'm a bit old school about these kinds of things, but I think it speaks volumes on a company when it comes to the care they take in packaging their own product.
Axian, the storage boxes.
Fresh from the storage box.
Upon opening, the patented cut foam is clearly visible.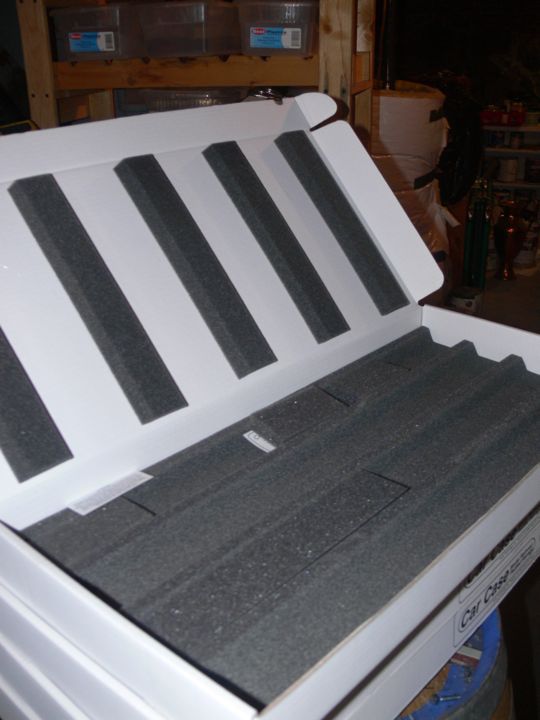 Note the extra foam pieces, and label (sticker) for marking the boxes that's included in each.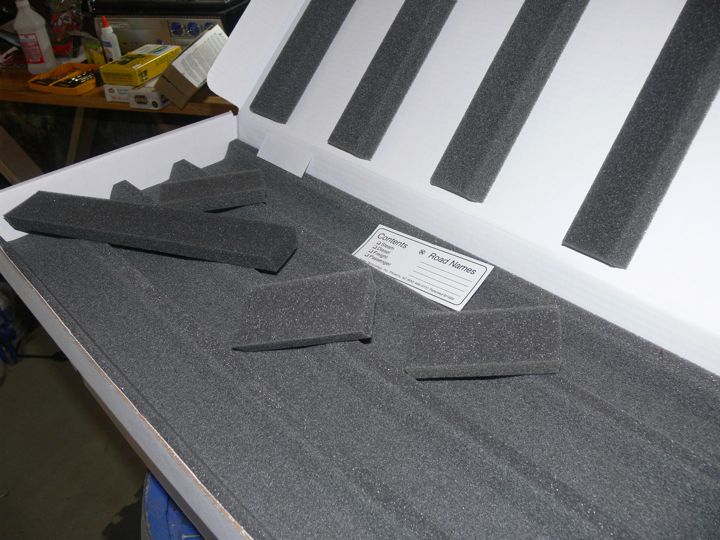 Here's what I'd like to get into storage.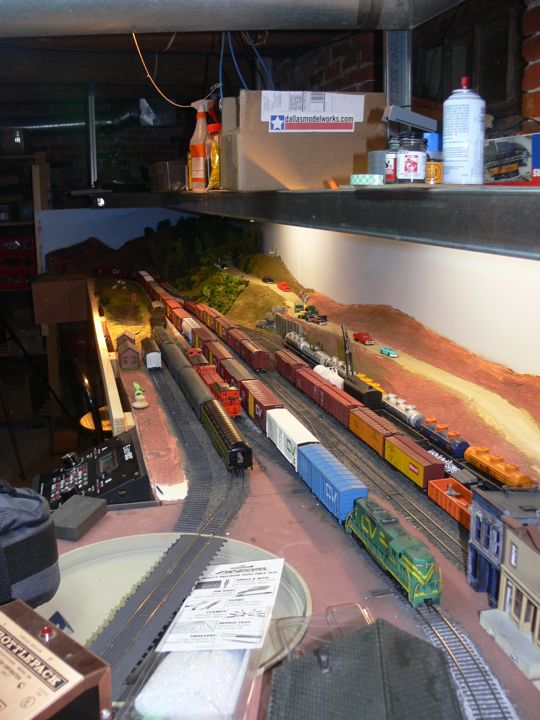 As well as this.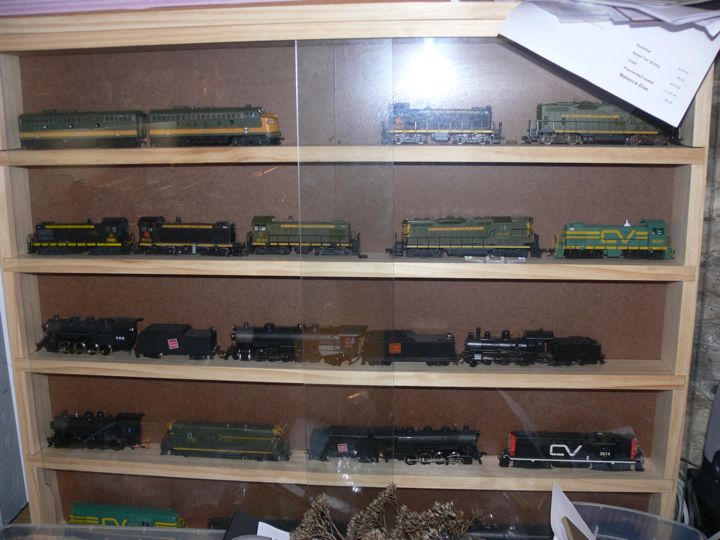 Axian advertised that these boxes would hold up to 20 cars each. Well, in the case of 50' newsprint cars, you're looking at an even dozen.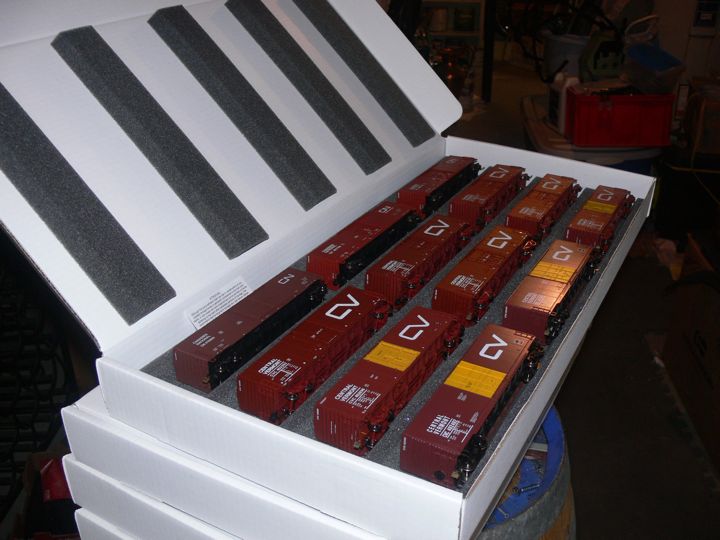 The smaller 40' cars clearly fit more - but only 16 per box. You could fit 20 if you're storing only coal or iron ore hoppers.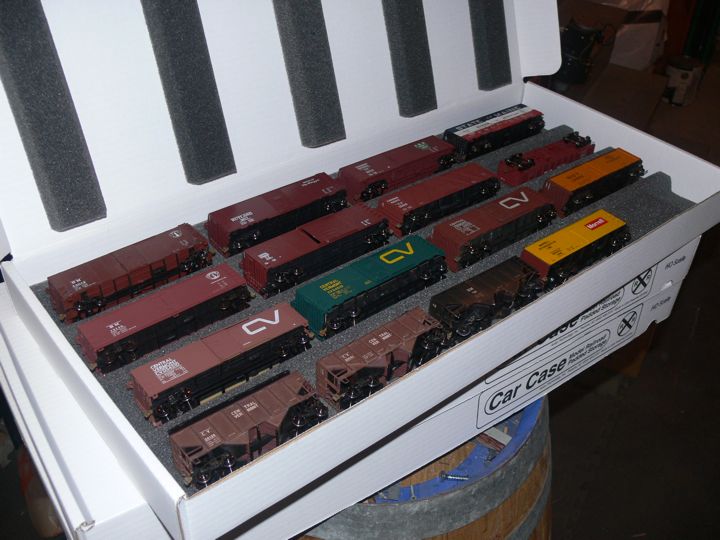 The extra foam pieces come in handy to "lock" models from sliding down into empty space.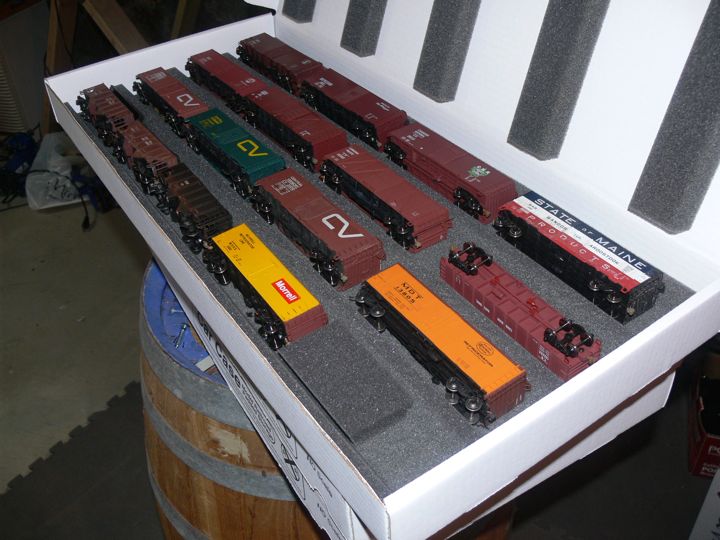 The diesels fit as snug as the rolling stock, but again you're limited in number.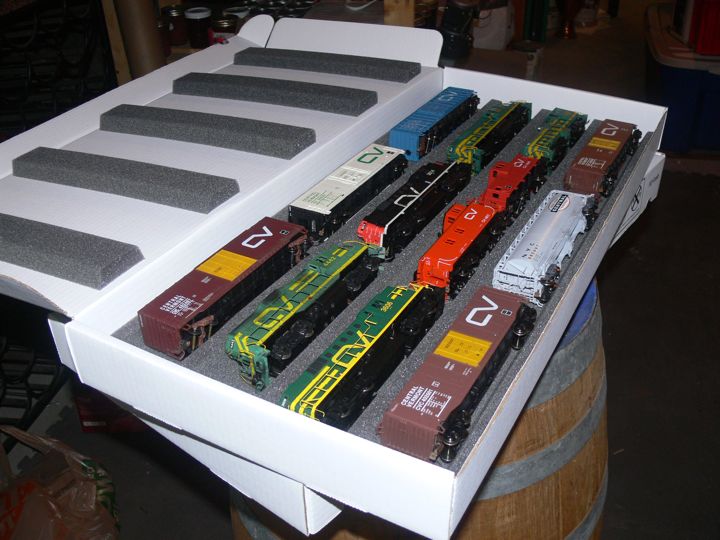 Passenger equipment - well that's a whole 'nother story.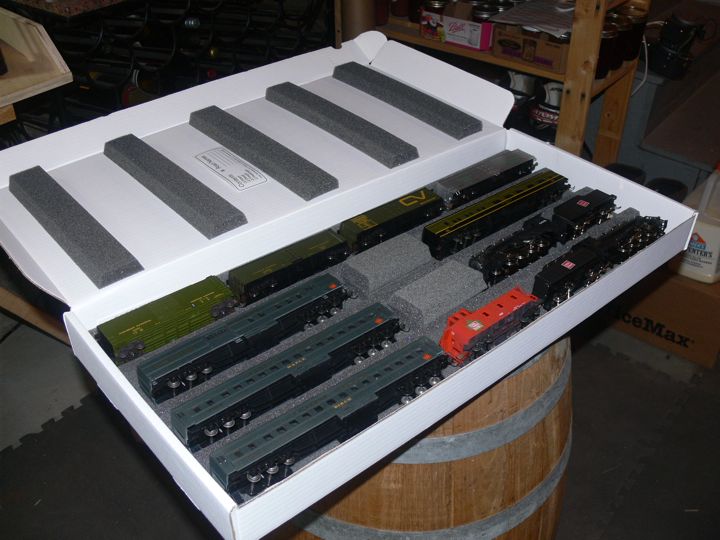 Based on their length, you're going to find these boxes don't hold a whole heck of a lot when stuff is over 50'. They do fit nicely on my shelves though.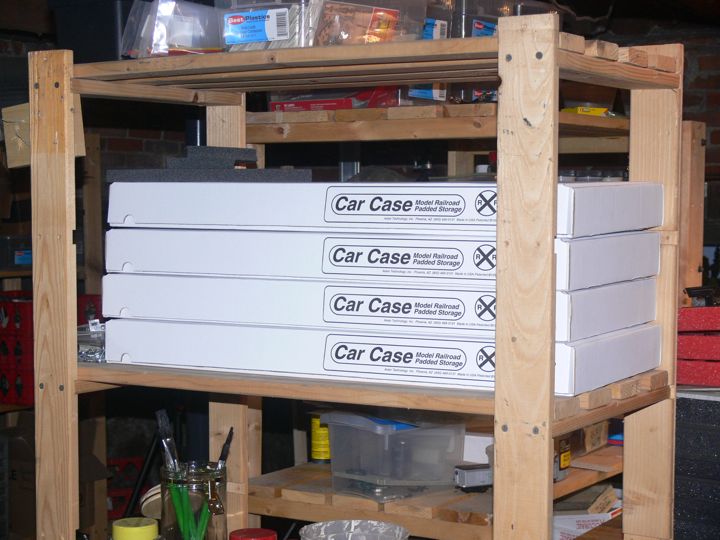 Conclusion
I give the company a high rating for it's professionalism, and the quality of the design of these storage boxes. Other than the hopper coal loads, when closed and given a slight shake, there was NO noise, no rattles, nothing.
Axian does recommend that you use paper between the foam and the cars for long term storage, due to the fact that some paints can react and stick to the foam over time.
I give the company a low rating for it's advertising that these boxes hold up to 20 cars, as that was part of my decision process, and while technically true if you're running nothing but short cars like hoppers, clearly isn't the case from the pictures as shown. I had purchased 4 boxes based on that storage quantity, presuming I'd have maybe one extra box, but I still have locos and cars that didn't make it in these. Overall, I'm pleased with the product. The cost is a bit higher (due to the diminished real world storage capability) than I would like, but I think these will help protect my collection over time, and still represent for me a real value.
Since my original order, I have ordered another four boxes, so I guess for me, the proof is in the pudding.