Scarpia's MINIVerse - Model Railroading
Planning Stages - updated 23 October 2008
I have changed direction on this - please see the new page
With the Test Layout operational (but not fully finished), I've decided to work on some plans for the final layout (be sure to scroll down for the latest one).
There a couple of basic premises that I am using as guidelines to the creation of the main layout.
Central Vermont Railway (CV) from Waterbury VT to White River Jct, VT
HO scale
22 inch minimum radius curves
No tunnels. The CV only had one, and that was near Burlington.
Non-era specific. While I intend on primarily running Steam, pre-WW2, I would like to run diesels up until 1970 on this line for fun. Sure it may not be accurate from a historical standpoint, but I'm really not that interested in that aspect. As the main point is the interchange with the Mt. Mansfield Electric Railway, which ceased around 1933, scenery will be aimed at that time. One of the advantages about New England though, is that a lot of the same things that existed in 1933 were still standing 50 year later (and in many cases still are).
Interchange with the CN and GT via hidden staging (reverse loop).
Interchange with the B&M in WRJ; this area to be built after the Waterbury side.
Will occupy main level
Mt. Mansfield Electric Railway (MMER)
HO Scale
18 inch minimum radius curves
Era specific (1928-1933)
Will occupy top level, with interchange on main level with the CV
Note that the space they are going to go into, is not yet finished and under construction, at a very, very, slow pace.
| | |
| --- | --- |
| | This is a shot of the space before we took possession of the house, and before work began. The layout will be on this end of the room (approx 16 x 18 feet) |
| | Due to structural problems, we added post and beam, as well as cross ties across the roof rafters, and finally knee walls before replacing the roof. The window at the end of the room has now been replaced as well. |
So here are my first drafts for the track plans. I'm intending on the transitions between levels to be behind the knee wall (which will be accessable crawl space). I've revised these plans (July 24 2008), as I will not be using the crawl space. The slope of the roof is steep enough that I need to pull the entire thing at least 12-16 inches away from the wall to have a usable two decker. That means the hidden are can remain hidden, but not behind the wall itself.
To that effect, I've drawn up revised plans. Mostely this means shrinkage of the main line by 12 inches.
Staging area

Main Level (CV & MMER)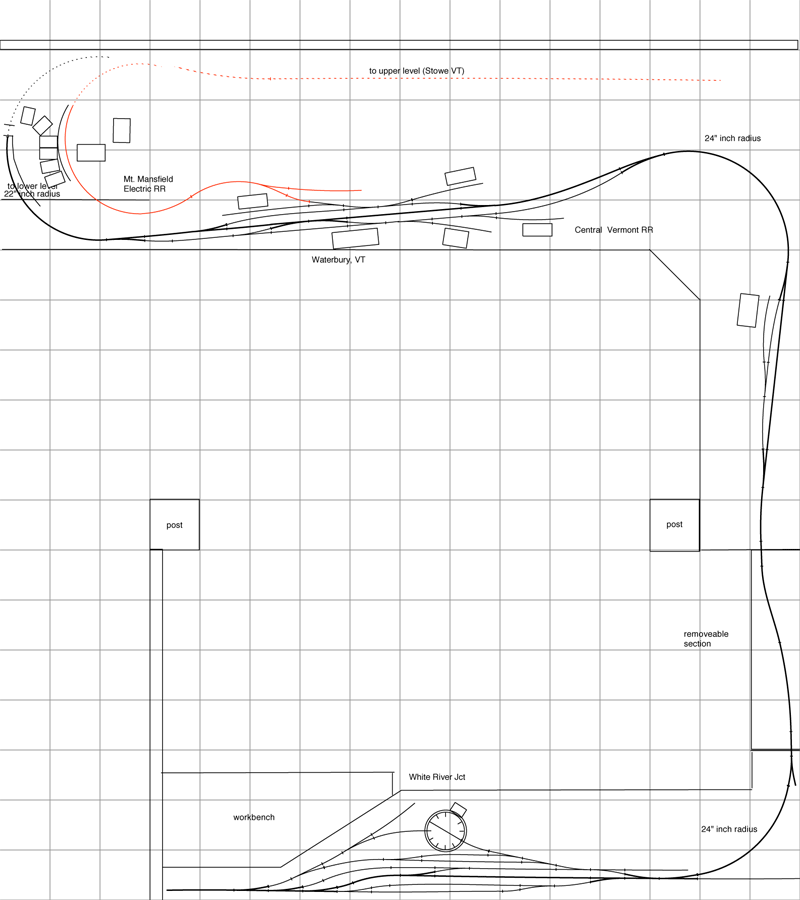 Top Level (MMER)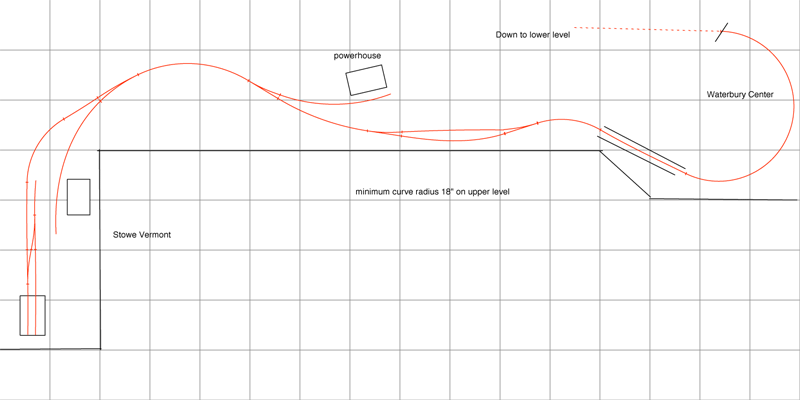 ---
The previous plans......
Staging area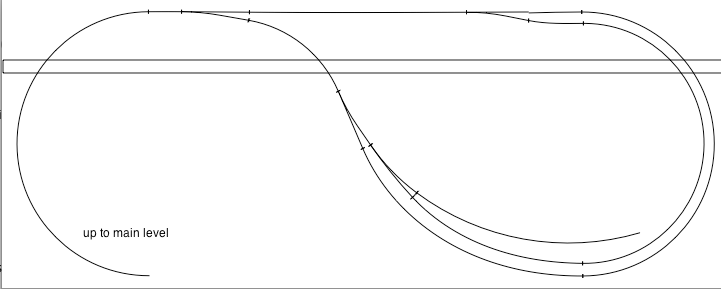 Main level (CV)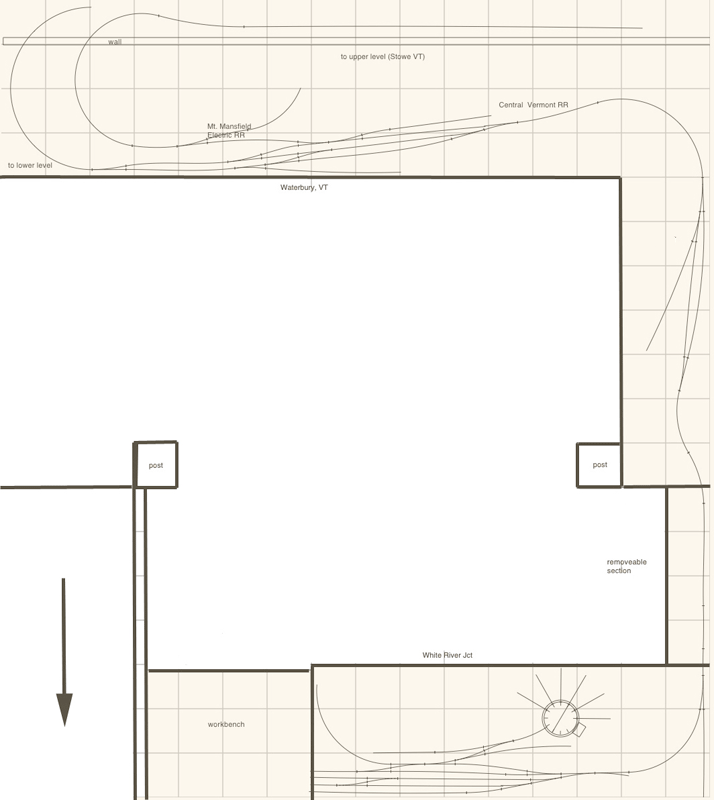 Top level (MMER)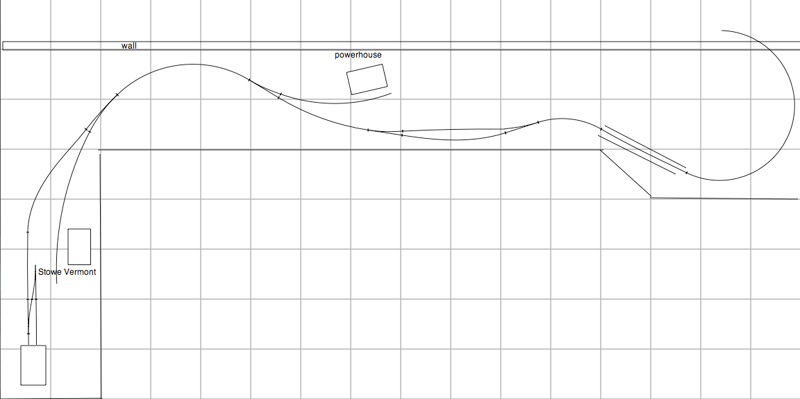 Combined view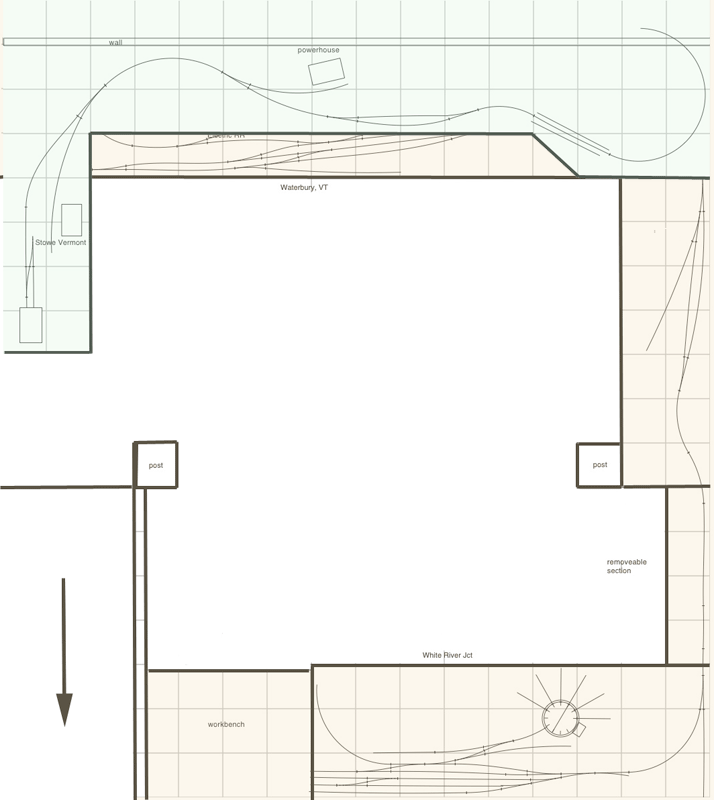 I have revised the plan to reflect the actual yards as they were. (June 30-2008)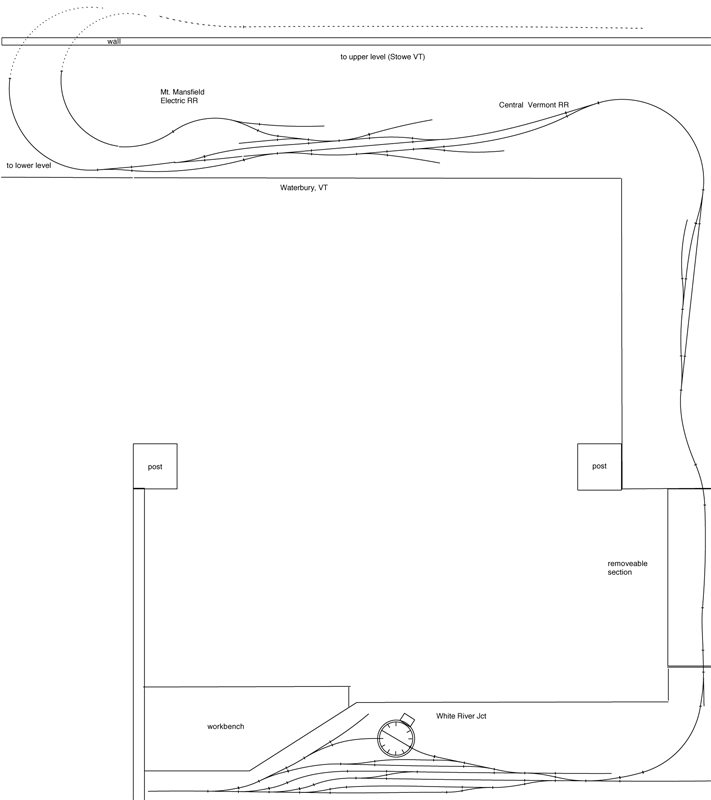 I decided to add a penninsula to make for longer main line runs. I still need to add a roundhouse to WRJ.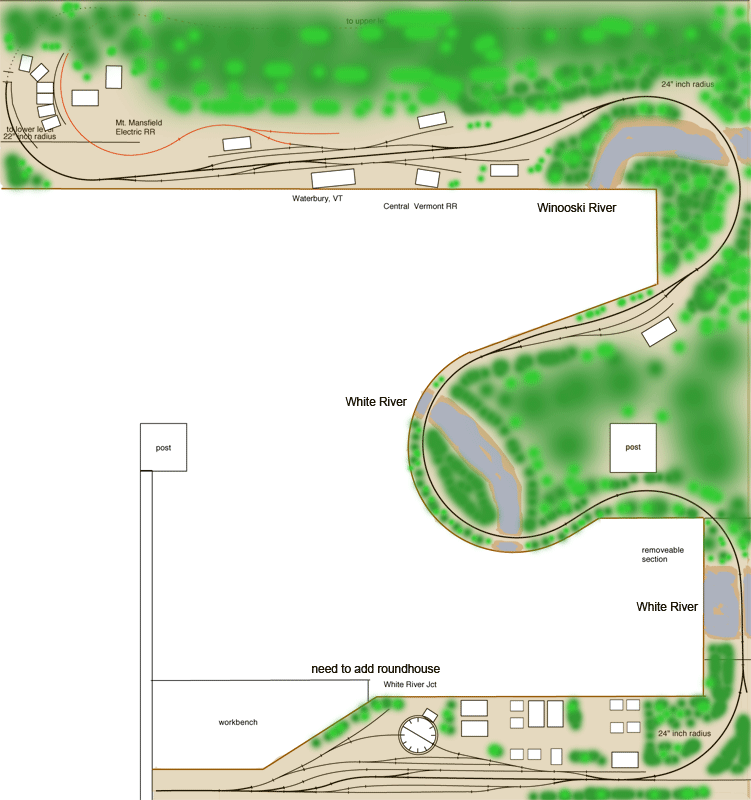 A new, revised (and expanded) plan for the mid level, 23 October 2008). I'm still not sold on WRJ yet, but still considering it. Biggest change has to do with the expansion of the B&M main line, and a full curcuit capablity (see lower level, below).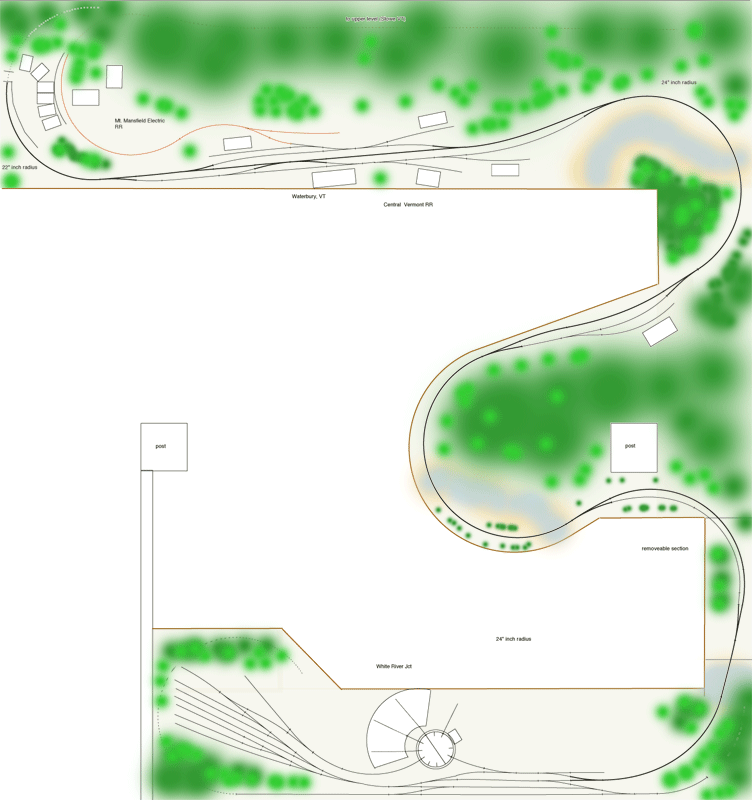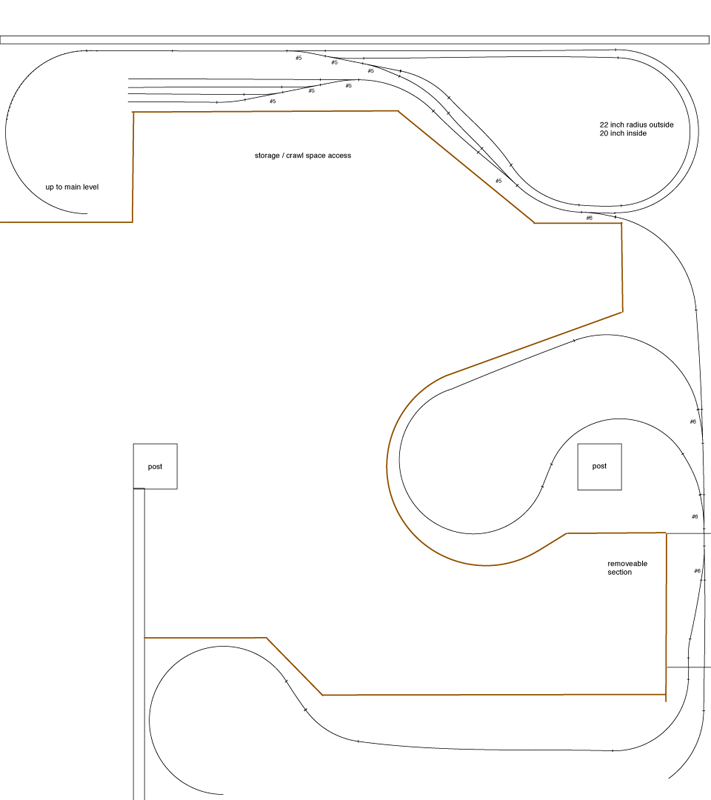 ---
'ere is dem nasty legal bits:
This website is completely unofficial and is in no way endorsed by anyone. All corporate and company names are used without permission. No challenge to their status is intended. ©2008. This site is the sole work of Scarpia (Thomas Garbelotti) unless otherwise noted. All content not created by Scarpia is copyrighted by the respective copyright holders.