Scarpia's MINIVerse - Model Railroading
Layout Element - Hartford High Bridge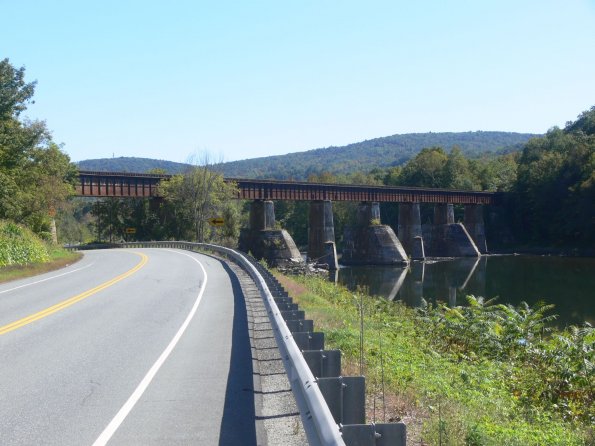 Planning process
After deciding that my "final" layout will consist of no benchwork over 24" deep, and be modular in nature (not really intended on being moved, but possible) I have decided to begin construction of the first Layout Element (LE), as it can be moved later on. One design intention is to connect each LE to it's neighbor by aligning track along a six inch center (from the front and back edge).
This is a 2x7 foot LE based on the Hartford High Bridge over the White River in Vermont, along the former Central Vermont main line. A complete series of current (2009) photographs of this bridge may be found at my railroad photograph website.
Featuring no less than 8 Micro Engineering bridges (two 85' spans, and six 50'), it will sit on home made piers and abutments as it crosses a water feature and road way.
Piers and abutments are planned as solid wood construction, with a plaster (concrete) coating.

LE construction will consist of 1x4 inch pine lumber for a base, with risers attached for sub roadbed and terrain features. All cross members will be on 12" centers.
A four wire electrical bus for DCC (for two zone capability) will run the length of the module, connecting on either end with standard 12v PC power connectors (4 pin Molex power cable). I'm not sure if these will be robust enough yet, as they are rated at 13 amps per circuit, but it is only 18 guage wire.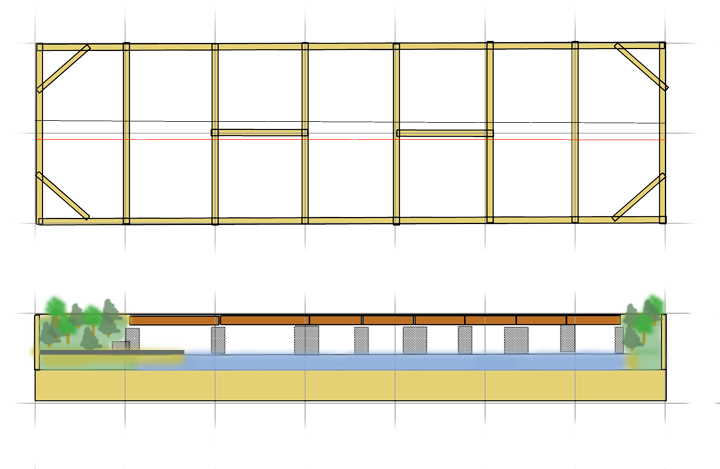 LE will stand on seperately constructed benchwork to match height.
Construction (coming soon)
---
'ere is dem nasty legal bits:
This website is completely unofficial and is in no way endorsed by anyone. All corporate and company names are used without permission. No challenge to their status is intended. ©2009. This site is the sole work of Scarpia (Thomas Garbelotti) unless otherwise noted. All content not created by Scarpia is copyrighted by the respective copyright holders.