Atlas Alco S2 to the Central Vermont 7917, circa 1956. Sound and DCC equipped.
History - Electronics - Resources - Body Detailing - Conversion - Painting and Decals
In order to get an appropriate locomotive roster for the area I'd like to model, it's going to take some customization work. I currently have very little experience in this area, so I've decided that starting with a "simple" diesel switcher might be a good place to begin.
History and Goals for the CV 7917
The 1000 hp, Alco S2 was actually transferred to the Central Vermont from the Grand Trunk Western (where it was also the 7917) in 1948 to be the third diesel unit on the CV. Destined for switching chores in White River Jct, it make a perfect project.
There are five detail areas that I would like to focus on for this model.
Triangle shaped illuminated number boards on hood.
Sloped storage locker
Raised emblem
Accurate Horn
Steam Marker Lights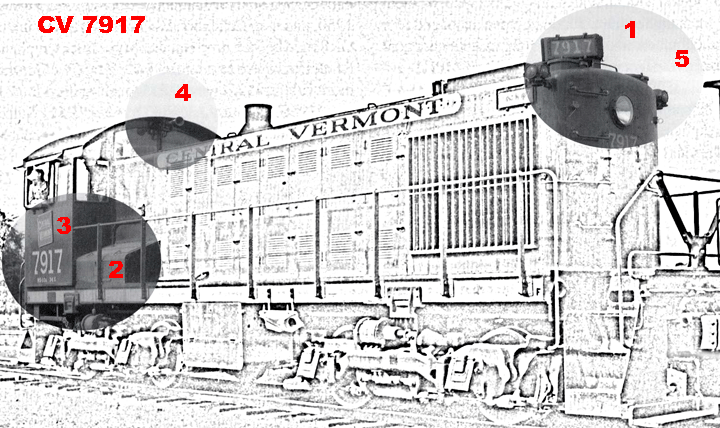 (modified picture is from Central Vermont & Grand Trunk Diesel Locomotives (1940-1975), Liljestrand, Robert A. & Sweetland, David R. Page 6. No Publisher or Publication date or ISBN available).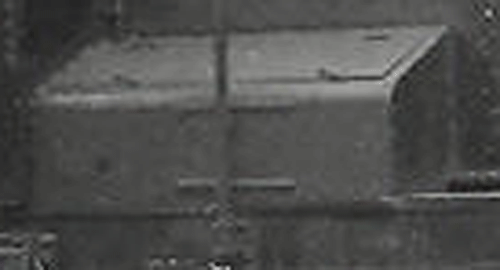 close up of the sloped storage locker.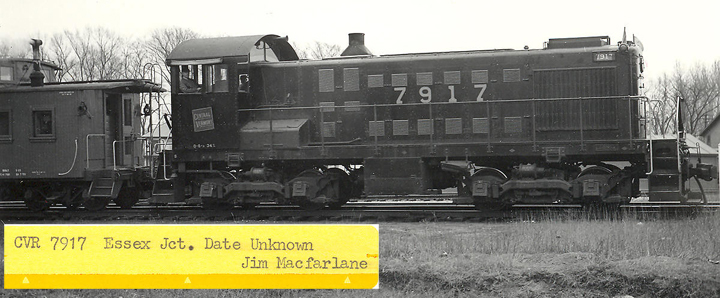 Electronics
It is my intent to run this with DCC and Sound equipped, and to that end, I've researched the right decoder. MRC makes one for the model, but not only is it the wrong horn, but the wrong power plant as well. The S2 came with a turbo charged 539 6 cylinder diesel; Loksound currently (Spring 2009) offers a non-turbo charged 539. The knowledgeable gentlemen at Litchfield Station, Bruce, however suggested that Soundtraxx will have a 539t Tsnumai in the near future, a fact that was confirmed by Soundtraxx themselves. After Soundtraxx announced the right chip at the 2009 NMRA conference in Hartford, I ordered one and a speaker from Litchfield Station.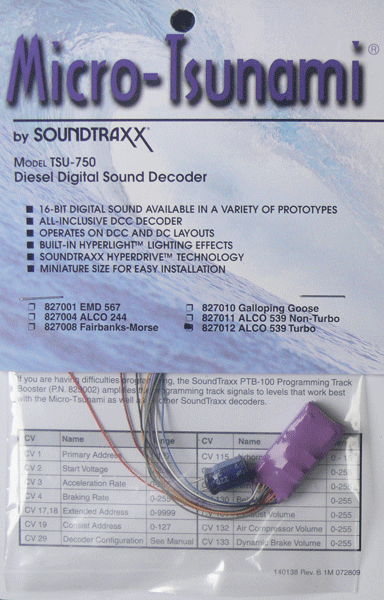 The Micro-Tsunami TSU-750 for the Alco 539 Turbo engine (part number 827012)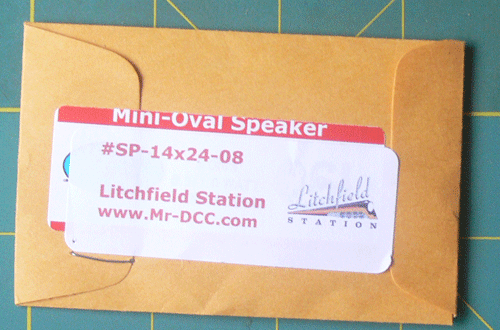 As space is tight in the model, and I don't want to put the speaker in the cab, I got the smallest speaker I could.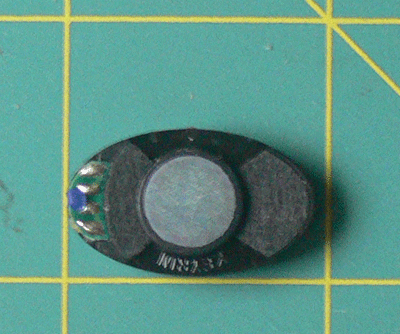 The grid work here is a one inch space.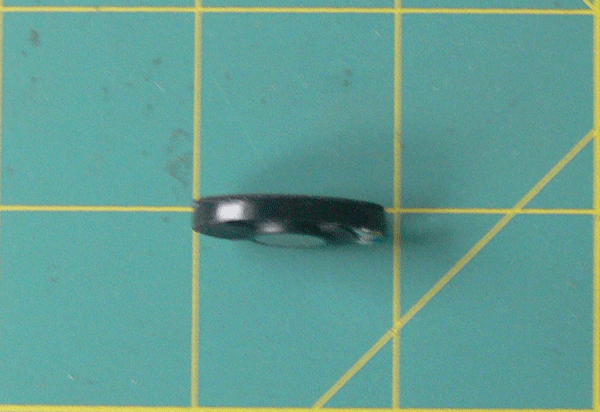 Online DCC discussions have led to looking for speaker and decoder placement, as there is not a lot of space inside this shell.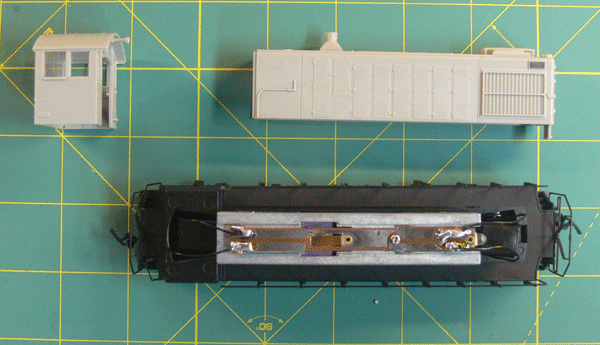 Here is the model with the top shell removed.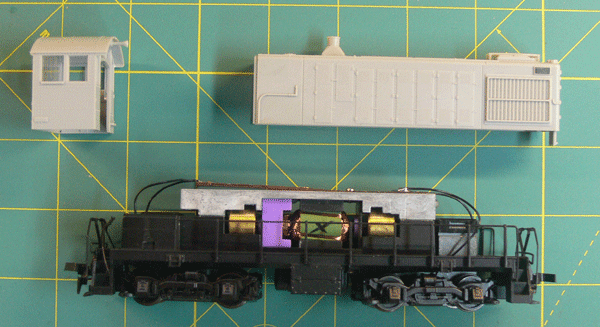 And with the chassis sideways. The decoder normally fits in the front on these models, and the speaker goes in the cab (as there is no fuel tank).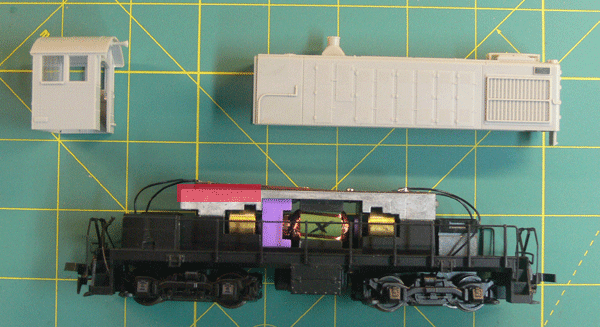 As the entire chassis is metal, this is a heavy model. I'm considering at this stage removing the area of the top weight that is marked with red, and putting in an oblong speaker, without enclosure, here.
References
I've been able to find a couple of great references for wiring this model, including...
Body Detailing
After some good advice, especially from Marty McGuirk, I settled on and ordered the following items.
From Miniatures by Eric
From Details West
From Cal Scale
From Microscale
Central Vermont, Grand Trunk, Grand Trunk Western, Duluth, Winnipeg & Pacific -- Steam Locos 1931-60
Diesel Loco Data Sheets -- Assorted Number boards - Clear Numbers on Black Background
Here are all the pieces assembled, and ready to roll!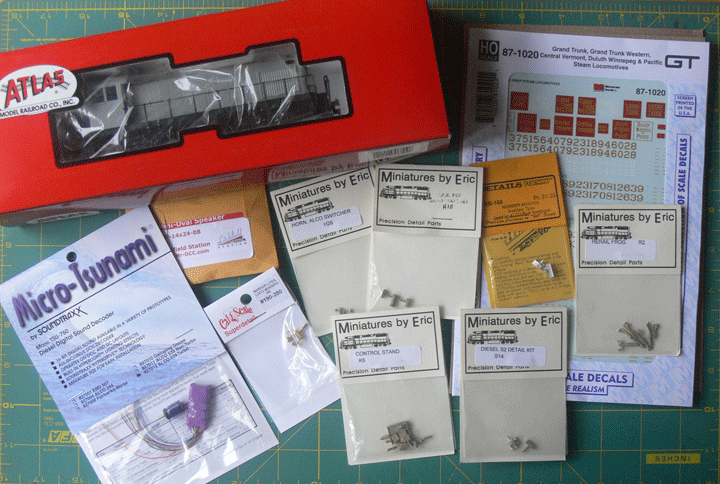 Next to the conversion.